Silverstone
Scale up of CO2 capture and storage of geothermal operations.
Project Silverstone will deploy full-scale CO2 capture, injection, and mineral storage (CCMS) at the Hellisheiði geothermal power plant, reaching a near-zero carbon footprint. The Carbfix capture and injection demonstration plant has been operational at Hellisheiði since 2014 and has injected over 70,000 tonnes of CO2. Currently about 12,000 tonnes of CO2 are captured and injected at the site annually, approximately one-third of the Hellisheiði power plant's CO2 emissions.
Through the project, a new CO2-optimised capture plant will be constructed bringing the capture efficiency to 95% of the total CO2 emissions.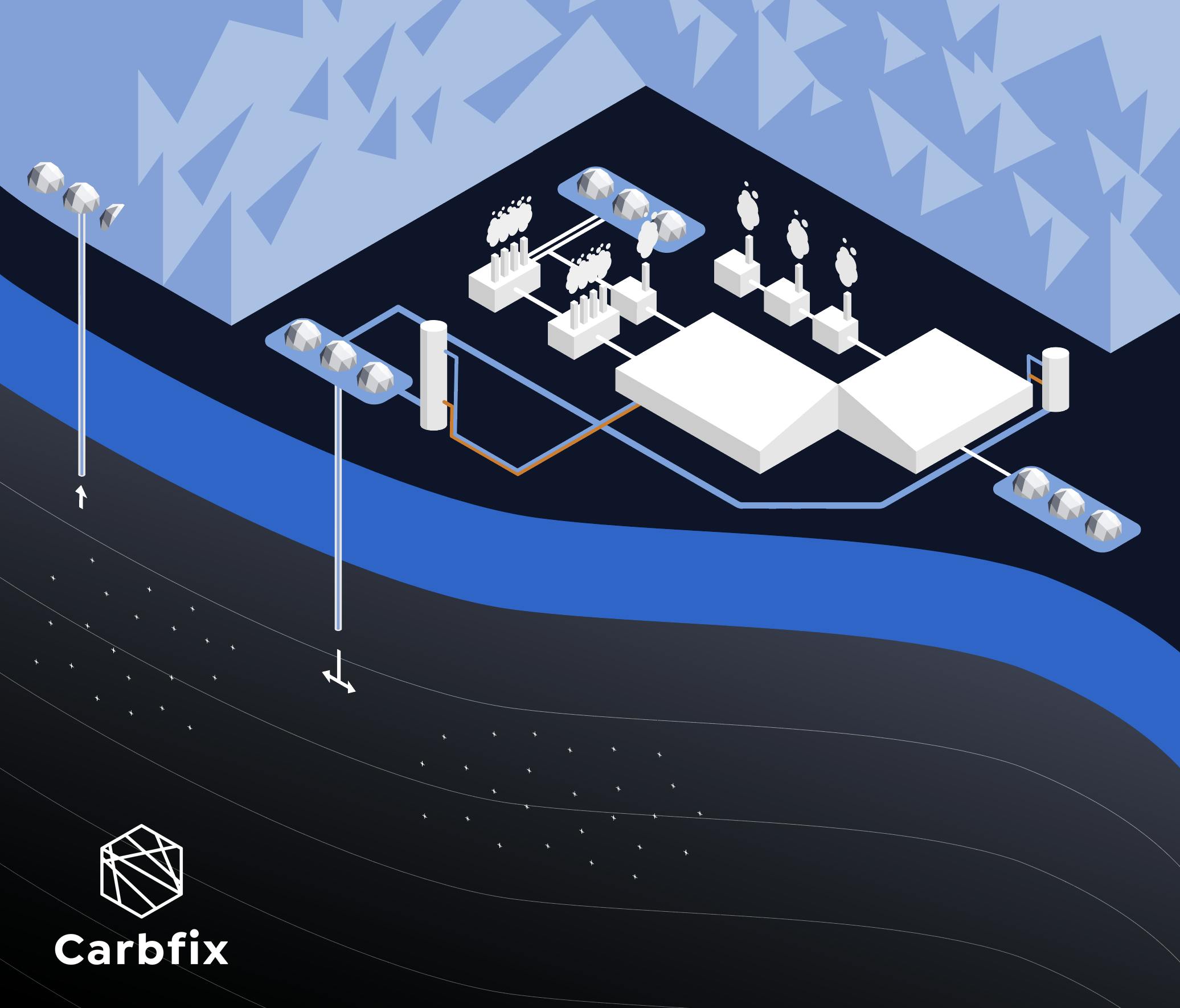 Carbfix and ON Power, subsidiaries of Reykjavík Energy, have received a grant of 3.9 million euros from the EU Innovation Fund for the Silverstone project. The project will scale up, design, and build an optimised Carbfix capture plant with the capacity to capture about 34,000 tonnes of CO2 annually, which would otherwise be emitted to the atmosphere. The new capture plant will be commissioned in 2025.
Safe and proven process
The Carbfix technology was first developed at the Hellisheiði site, in collaboration with industry and academia since 2007. The technology imitates and accelerates natural processes by rapidly turning CO2 into solid carbonate minerals underground. It is proven at the project site to be safe, efficient, and environmentally friendly. By injecting CO2 dissolved in water into basaltic formations, it is rapidly transformed to minerals for permanent mineral storage.
Emission reduction
The project has considerable scale up potential, providing a significant impact for emission reduction within the geothermal sector. This project alone will deliver 10% of the 55% emission reductions that Iceland's Climate Action Plan calls for by 2030 within the energy and industrial sectors not covered by the EU ETS. In addition, the technology is readily adaptable to several hard-to-abate sectors, including steel and iron, cement, ammonia, and waste management.